Since it was founded in 2013 and took over the LabSolution business, LIMSEO has successfully developed the LIMS and associated services. The past 18 months have been marked by a strengthening of the team, a significant investment in features such as the Web portal and the SolnGo tablet app for samplers, as well as the recent launch on the German market.
LIMSEO has just adopted a new visual identity that better reflects the current dynamic.

The new company logo is the key element. It partly retains LIMSEO's characteristic blue colour, a sign of seriousness, serenity and confidence. The rounded font expresses simplicity, flexibility and closeness in customer relationships. The darker colouring of the LIMS element and the flask-shaped letter O reference LIMSEO's strong commitment to the laboratory world. The bubbles escaping from the flask add a touch of boldness, creativity and innovation.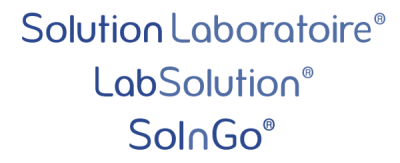 LIMSEO's new visual identity is also reflected in the LIMS logos for its French and international names, Solution Laboratoire and LabSolution, as well as the logo of the SolnGo tablet app.
« This new visual identity enables us to convey our corporate positioning and values in a modern, consistent and sustainable way. LIMSEO is fully committed to innovation in order to better prepare for the future. Our expert and highly-motivated team is eager to offer our customers the best applications to facilitate their day-to-day work. »
David Bourgeois, CEO.
LIMSEO's new visual identity will be rolled out in all communication media and integrated in the new version of the LIMS.
We invite you to discover the new 2015 version of LabSolution, with its new colours, by visiting our booth at two forthcoming trade fairs dedicated to laboratory techniques:
– LABORAMA, March 19th and 20th in Brussels
– Forum Labo, from March 30th to April 2nd in Paris
If you would like to receive an invitation for these two fairs, please let us know using our contact form.