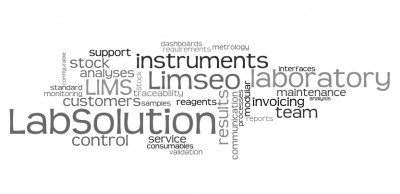 With its modular structure, LabSolution® offers everything you need for managing test requests and samples in your laboratory:
Preparation of the sampling tours
Tablet App for on-site data collection (in development)
Customisable registration screens (additional fields added by means of simple parameter settings)
Reception with Barcode of the samples, preregistered manually, or directly by your customers (via email or online registration screens) or by interfacing with an external application (computer-aided production management, ERP, supervision, customer application, etc.)
Communication with samples wireless instruments
Filtered lists
Display of fully customisable lists
Scheduling of samples and distribution of the work (assignment of samples on worksheets)
Subcontracting management (automated communication with your usual subcontractors)
Recording of the results, by sample or by worksheet
Calculation formulas, both simple and complex
Communication with your instruments (one or two-way communication): sending the list of samples and automatic data collection, to avoid the time-consuming, error-prone rekeying of data
Multi-level validation of results by technicians and department heads
Automated output of test reports based on predefined, fully customisable templates (using Crystal Reports®)
Electronic document signature
Display of the results on a Web portal (secure intranet or fully accessible extranet)
Statistics
Dashboards
Addition of customised treatments via an internal macro-language
Simple input/output interfacing
Full traceability, in accordance with the standards ISO EN CEI 17025 / LAB-GTA-09 / 21CFR Part11
Management of user profiles and access rights
Management of technician qualifications
Third-party management
Invoice collection management
Inventory management of reagents, with traceability of reagents used for analyses
Instruments management (metrology), with traceability of instruments used for analyses
Standard interfaces
Custom interfaces developed using the internal macro-language
Do you have a project in mind?
Speak to one of our sales managers on +33 9 7244 1710 or fill in a contact form. We will contact you as soon as possible.