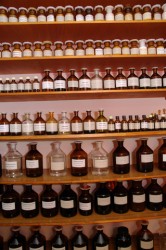 The stock management module contains everything you need for managing your laboratory reagents and consumables:
Management of consumables (quantity in stock, minimum stock, risks & dangers, location, shelf life monitoring, incoming/outgoing, etc.)
Management of manufactured reagents
Supplier management (supplier details, reference numbers for consumables, prices, etc.)
Storage of Safety Data Sheets (SDS) and Certificates of Analysis from suppliers as an attachment in dedicated fields
Management of test requests and validation by managers
Order preparation
Management of supplier orders and delivery tracking (full and partial)
Barcode label printing
Stock level tracking and warning (pop-up window) when a withdrawal causes the stock level to fall below the minimum
Warning if a product is close to its expiry date (pop-up window displayed on opening LabSolution®)
Stock withdrawal by manual input or using a barcode reader
Inventory management
Tender management:

Recording of successful tenderer (by consumable), preventing another supplier from being selected when generating orders
Price
Contract start and end date
Contract number

Statistics on laboratory product consumption (quantity consumed, reorder frequency, etc.) based on configurable lists and the relevant database requester (Crystal Reports is recommended and is supplied with LabSolution®)
Interface with the Solution Lab® Analysis module

Tracking of lot numbers by results recording, using a barcode or via manual input
Automatic reduction of the theoretical quantity reported on each analysis when added to the bench sheet. The actual quantities left in stock can then be adjusted
Do you have a project in mind?
Speak to one of our sales managers on +33 9 7244 1710 or fill in a contact form. We will contact you as soon as possible.