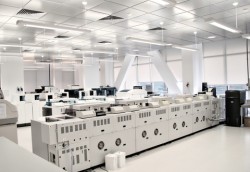 The instrument management module helps you monitor the maintenance and inspection of your instruments. It offers the following functions:
Instrument data (description, purchase date, reference number, other details)
Operator management
Maintenance sheet management
Instrument service record
Service schedule management (preventive maintenance)
Interface with the Analysis module

Tracking of instruments used by results recording, using a barcode or via manual input
Non-compliance validation of results from out-of-service instruments
Viewing instrument data
You can view the full details of an instrument:
The instrument's service record
A log of work done
The maintenance schedule
Other details via additional fields configured on the instrument record and job sheets
You can also keep a record of when an instrument is taken out of service. A fault log is maintained in the system.
Warnings and exemptions
A warning is sent out automatically when work is required on an instrument:
Maintenance work, recalibration
Replacement of control cards
An authorised manager can grant an exemption to enable an instrument to remain in use despite pending maintenance. An exemption is temporary. A record is kept of all exemptions.
Do you have a project in mind?
Speak to one of our sales managers on +33 9 7244 1710 or fill in a contact form. We will contact you as soon as possible.