LIMSEO presents SolnGo®, its brand new tablet application for managing samples and entering field data and the results of on-site analyses. This new application is an extension to the LabSolution® software package.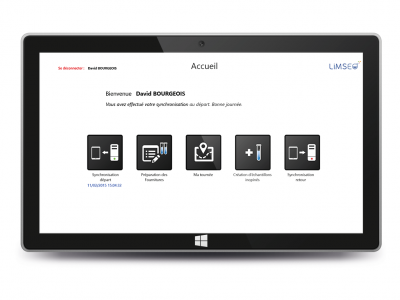 It helps laboratories improve productivity and increase the traceability of sampling operations, as required by accreditation bodies, while at the same time making the day-to-day work of sample collectors easier and more efficient.
With SolnGo®, samplers can view their rounds, the list of samples to be collected and the equipment and sample containers they need to prepare before setting off. This will save time at every stage of the sample collection process and avoid the laborious and error-prone rekeying of data back at the laboratory.
Collecting samples and taking measurements on your customers' premises, in storage areas for raw materials or for finished goods prior to shipping or export, or directly on the production line, requires a well-oiled logistics operation and organisational systems that are sometimes difficult to manage, given the conditions under which the work is undertaken.
Operators have to carry with them the list of sites to visit, and keep a record on their paper files of field data, the results of on-site measurements, information provided by their contacts, and requests for sampling and laboratory analyses not scheduled prior to setting off. On returning to the lab, after repeated handling of those files in sometimes hostile conditions (rain, mud, wind…), they have to rekey all the collected data into their management software or Excel, before preparing the paperwork for the next day's round.
SolnGo® simplifies the day-to-day management of all of these tasks, saving your sample collectors up to one and a half hours every day and delivering a fast return on investment.
The application runs on a tablet computer under Windows 8.1 RT or Pro.
To summarise, SolnGo® helps sample collectors carry out their day-to-day tasks more easily and more quickly, thanks to its outstanding performance features:
list of equipment and containers needed for the round
geolocation of sampling points on an interactive map
dynamic data entry forms customised to conditions on the ground (data entry format based on sample type and customer requirements), accessible from the menu in just one click
data synchronisation on leaving and returning to the lab, which avoids rekeying, reduces the administrative burden and eliminates the stress associated with input errors and oversights
runs on a tablet computer under Windows 8.1 (Pro or RT)